Seven AnnenMayKantereit Sessions in Los Angeles
We've been to the US with the german band to record some spontaneous jams on the streets of L.A.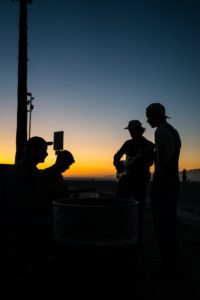 In October of 2017, we were invited alongside photographer Jean Raclet to join the german band AnnenMayKantereit on a trip to Los Angeles.
The idea was simple: We would just wander around the city looking for spots, take the camera and start filming whenever we felt we had a special connection to the place. In two weeks, we shot lots and lots of material – and now, months later, we decided to show seven of those sessions on YouTube.
1. Ain't No Single
The first song is a duo performance of the song "Ain't No Single", including the extremely rare use of a drum computer. We decided to shoot in front of a pretty typical american house on a beautiful sunny day.
2. Weiße Wand
The second song is also a duo performance, this time just voice and bass. It's a very lyric-centered piece, like a musical poem, in the desert outside of L.A.
3. She Was
Shot in Black and White, this trio performance is just a snippet, but captures the mood in the evening sun quite well.
4. Mercedes Benz
This a-capella cover of the Janis Joplin classic was recorded at the beach on a lazy, very sunny day.
5. Don't Wanna Talk About My Feelings
Inspired by opening sequences of our favourite Western movies, this band performance was shot in the desert outside of L.A. with the camera not moving.
6. Wo Du Jetzt Bist
This snippet was shot on Venice Beach in L.A. in Black and White.
7. Non c'é maggio
This song is written and performed in the Italian language, also shot in the desert outside of L.A.
Discover new music every thursday!
Be part of our Journey and subscribe to our channel on Youtube, follow us on Facebook or Instagram for all the news about good music. You Lost track of all the videos we recorded over the years? No Problem. Just go to our Cardinal Sessions Spotify Playlist and listen to everything at first. We made Youtube-Playlists for you too, just click the following links:
► Watch all the videos we recorded with Cardinal Sessions in 2017 Playlist
► Watch all the videos we recorded with Cardinal Sessions in 2016 Playlist
► Go to our Cardinal Sessions Must-Watch-Playlist